2015 Chuck Jones Auction Painting
My contribution to the 2015 Chuck Jones Red Dot Auction.
This year, I went back to the well of using Daffy and Porky in a pop culture mashup. This one features Daffy as Ned Stark and Porky as Hodor, doing a medieval version of "Rabbit Seasoning".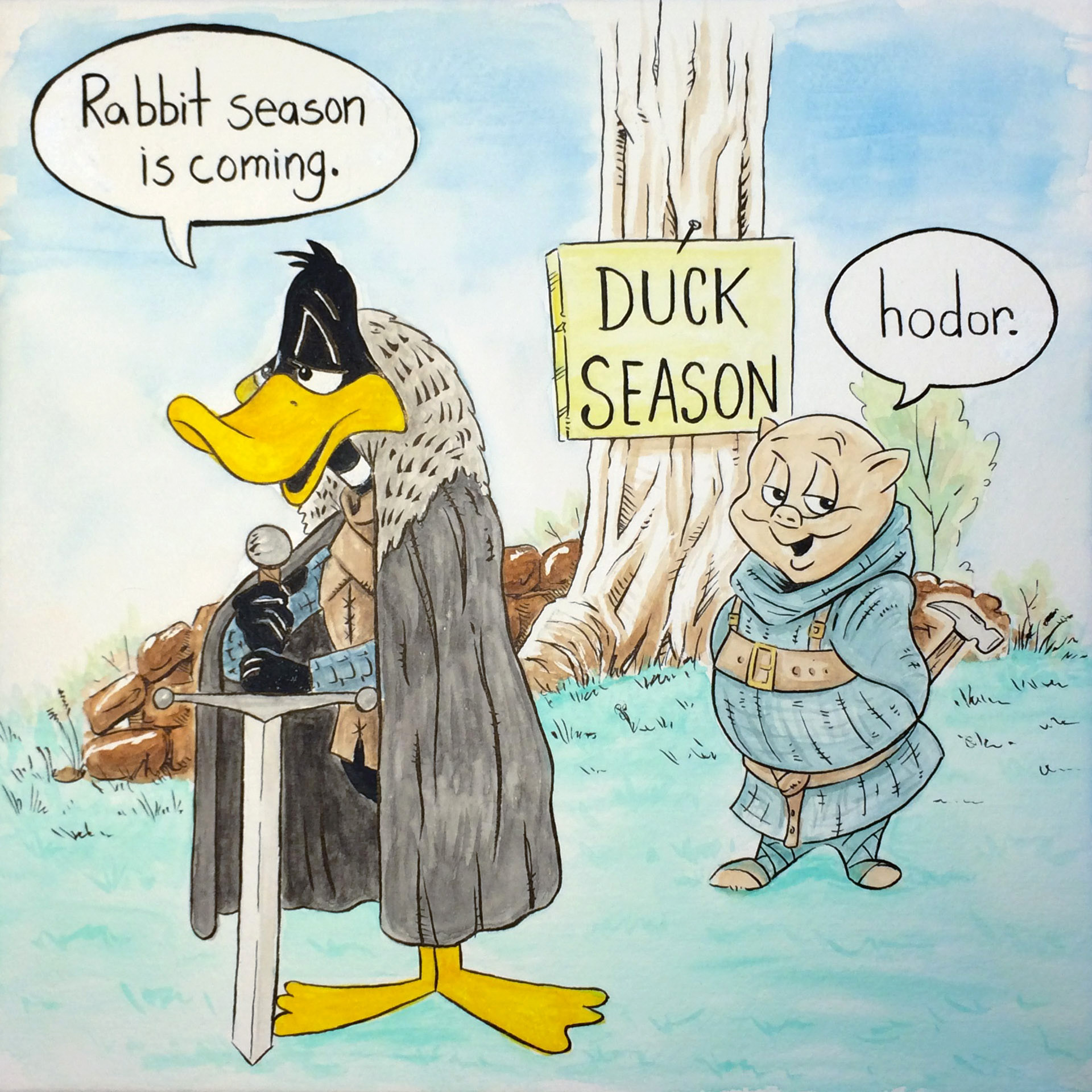 In previous paintings, I've used gouache and markers, but I've been doing a lot of watercolor lately, so wanted to give that a try. Unfortunately this year, I opted to provide my own canvas, and didn't leave myself a lot of time to choose one. Turns out, all the canvases stores like Michaels carry are all pre-gessoed and are meant for oil or acrylics. I've tried these types of canvases with watercolor before, and they never work right. 
So I ended up buying a couple of their cheapest canvases, and a large sheet of 140lb cold press watercolor paper. I cut the paper into squares and stretched them by soaking them in the tub for about 10-15 minutes. My first time stretching paper, but I think it worked well. I then stretched these over the cheap canvases and stapled them in place. Boom, instant watercolor canvas. 
Out of all the paintings I've submitted to the auction, I think I might be happiest with this one. I think I'm just getting better with watercolor technique. I did, however, do the concept and color comp in Photoshop. I love the flexibility to work out the composition digitally where I can undo, resize and move things around. 
Here's the progression from digital sketch, inks and a basic color comp. 

Then, I printed out the inked version and sprayed some graphite on the back, and was able to lightly transfer the art to the canvas. This was my single biggest problem in the past, how to get the comp design on the canvas. But this worked great.